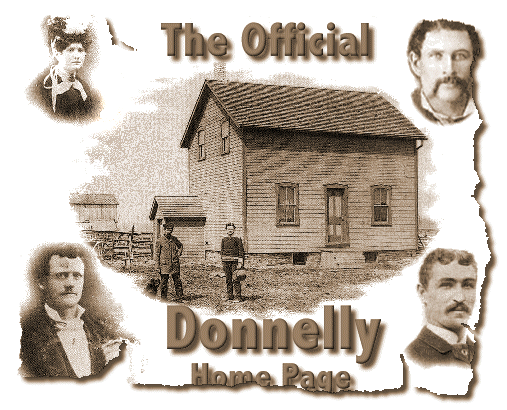 ~ www.donnellys.com ~
The Official Donnelly Home Page
This award-winning website was created in 1997 for anyone interested in the Donnellys, Canada's notorious family,
that was murdered by a vigilante committee near Lucan, Ontario, on February 4th, 1880.
2020 marks the 139th anniversary of the Biddulph Tragedy, as it came to be known.

This site has been online for 23 years, and it is still going strong, attracting close to a million visitors to date.
We wish to thank everyone for their continued support of this web site.

Whether you're a Donnelly enthusiast, or someone finding out about the Donnellys for the first time,
this web site is for you! It offers everything to do with the family from historical information and photos, to books and authors.
We hope that you find the information on this web site useful. And that you will encourage others to visit this site.

Thanks for visiting donnellys.com today!
---




donnellys.com Update:





The donnellys.com website is currently under re-construction.

The old website is outdated, so we are hoping to give it a NEW look.

But it's taking a little longer than we anticipated, as there is much

to be done here. In the meantime, we appreciate your patience as

the site is updated, and hope that you come back soon!

Thanks so much!



---



Donnelly Homestead Update:

After 30 years, the Donnelly Homestead Site Tour is closing.

Rob Salts, owner of the homestead, will no longer be giving tours

of the famous historic attraction. The homestead closed its doors

for the last time on October 31st, 2018.


I'd like to take a minute to thank Rob Salts for his time and

dedication in telling the story of the Black Donnellys,

and for the thousands of tours he has given over the years.

He has devoted 30 years of his life to keeping an important

part of Canadian history alive, and we all appreciate it so much.




It was also a great pleasure designing and maintaining Rob Salt's

website, 'The Donnelly Homestead Site Tour' for many years.



Thanks, Rob!
Wishing you all the best in your future endeavours.

Kind regards... Webmaster – donnellys.com

Copyright ©1997 - 2020 donnellys.com All Rights Reserved - 2019
Web site & Graphics designed by Webmaster. Donnelly photos in title collage used with permission from
Donna Jones and Robert Salts. Title graphic designed by Webmaster. No part of this web site may be reproduced in
any form without written permission from donnellys.com. Web Site created May.1997
Site updated: February 19, 2020